Why Choose Us
NO ASSEMBLY NECESSARY - WELL, MAYBE . . .
Always be cautious of the fact that some manufacturers' chairs come with the disclaimer, "some light assembly" may be required.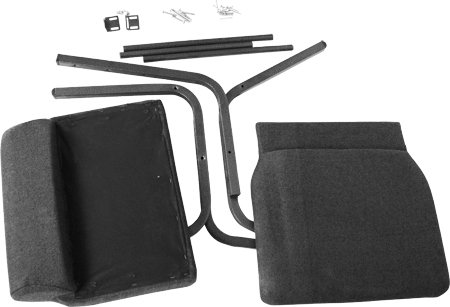 Every single worship chair we manufacture comes fully assembled and is backed with the strength of a lifetime warranty!
FRAME
Frame Strength and Lasting Durability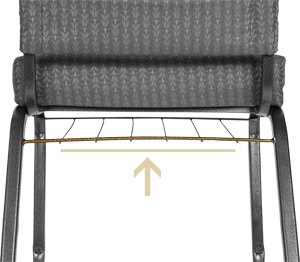 Frame Quality is Key to the Lasting Durability of a Church Chair.
Some Manufacturers
Use less expensive 18 gauge steel tubing.
Opt for miter cut joints that crush.
Use light weight steel rods for their frame cross supports.
Use light weight plastic seating with a weaker frame design further weakening the overall structure of the chair.
Our Company
We use heavy duty 16 gauge steel on all of our worship seating.
We use mandrel bent steel frames with multiple cross supports.
All of our cross supports are costlier and are superior 16 gauge steel tube cross supports.
OUR HISTORY. . . OUR REPUTATION. . . OUR FOCUS. . .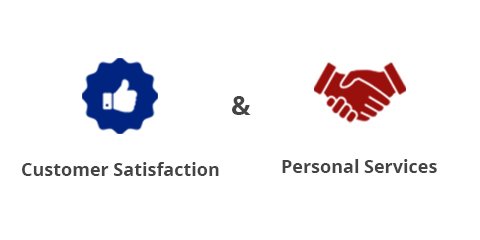 Chair for Worship by Uniflex pioneered in the design and manufacture of church chairs specifically for the worship community. Other companies may have followed our lead; however, our family tradition of servicing the stackable seating needs of the worship market carries the distinction of being first. Our vision for the future is to continue our over thirty year history of providing excellence both in product design and personalized service to each succeeding generation. We recognize the gravity in the decision making process for our clients not only from a financial perspective, but most importantly from the perspective of providing lasting beauty and comfort that enhances the overall spiritual experience.

We have shipped thousands of chairs to worship centers all over the United States and the world and still take joy and pride in every single chair we manufacture. Over the years, we have developed and maintained a strong Better Business Bureau profile, a strong Dun & Bradstreet financial profile, and have been recognized as one of the fastest growing small American companies by Inc. Magazine. We value each and every client and are here to stay to offer worship centers the highest quality seating products and service at fair prices all backed by a lifetime warranty that is second to none.
CHAIRS DESIGNED & ENGINEERED TO LAST A LIFETIME
Every single chair that we manufacture shares in common the following ten elements indicative of quality design and construction.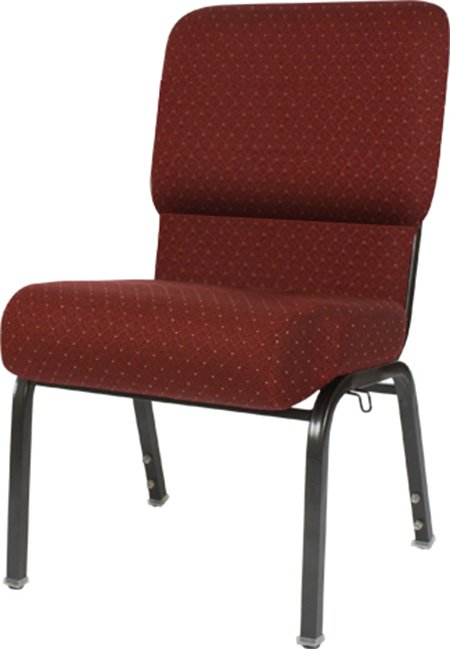 Quality
Seating Engineered With 10 Key
Elements of Superior Quality Design
Solid Frame Construction
High Performance Seat Foam
Ergonomic Back Support
Maximum Wear Fabrics
Scratch Resistant Finishes
Superior Fastening System
Premium Plywood Fabrication
Specialized Interlocking Features
Durable Hardware
Lifetime Warranty
IT'S ALL IN THE DETAILS . . .
Quality construction requires attention to details that enhance comfort, durability, and appearance resulting in a chair with lasting beauty and comfort.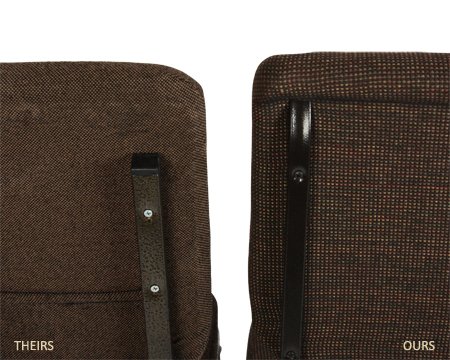 Now, compare the two photographs and observe the following differences between our economical chair featuring quality construction details on the right and the budget chair on the left without the detail.
The chair on the right features nicely tapered support bars designed to enhance the appearance of the chairs with a more tailored look.
The chair on the right is upholstered in a heavier weight, commercial fabric that results in lasting durability.
The chair on the right is constructed with a sturdy cap rail which makes handling of the chair much easier.
The screws on the chair on the right feature the added strength of T-nut assembly and are powder coated to match the frame.
FOAM
High Density, High Quality Foam Makes A Lasting Difference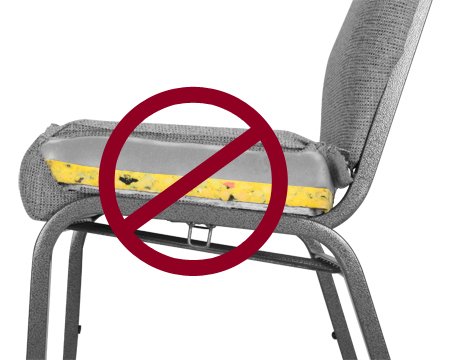 Don't Be Deceived by Companies that use Carpet Padding or Other Types of Cheap Foam.
The foam that is used in the manufacturing of church chairs is one of the most important components of the finished product and can be one of the most expensive. Since the foam quality is something that can be deceiving without proper evaluation, it tends to be one of the first areas of construction that many church furnishings manufacturers use to cut cost by substituting inferior foam products such as carpet padding or other cheap types of foam.

Quality seat foam in chairs is often difficult to judge because most of the time customers are evaluating new worship furniture that has not started the process of breaking down. Taking time in evaluating worship seating is crucial in determining the foam quality. A good way to compare the quality of the chairs is to have extended seating sessions. We usually recommend that this can be accomplished by placing the chairs in the sanctuary and sitting on them during as many services as possible.

All of the church pew chairs we manufacture have a high quality, high density foam that will not break down and will maintain its integrity over the life of the chair. Always keep in mind that foam by its very nature will never get firmer.
Extensive Selection Of Chairs
The ChairsForWorship™ Difference
ChairsForWorship™ by Uniflex manufactures a complete line of church chairs. Our church chair product line includes both Wood and Metal Church Chairs. All of the Church Furniture that we manufacture have the highest level of workmanship and materials.